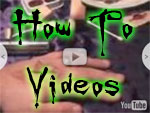 It is the music that makes a scary movie! Don't forget some sound effects played through a small CD player you burned yourself or a great Halloween CD to set the mood of the night. We have free halloween sound clips for the do-it-yourselfer.
View More Halloween Inside Tips...
View More Halloween Outside Tips...
Ligting - Use indirect lighting from colored lights hidden behind things so there are creepy shadows cast and do not use bright lights. A creepy home should not be light like it is christmas with strung lights to brightly illuminate the way. Florescent colored lights also add a glow to glow in the dark decorations and fluorescent paints especially blue and black lights. If you want more light then use blue fluorescent and you will get a good creepy glow and lots of light. Avoid regular colored bulbs since they do not produce the UV rays that is needed to make things glow. Stores sell blacklights that are not fluorescent but they are ALL garbage at doing their job.
Better stringing of the Spider webs in a Bag - The spider webs in a bag come in a string like a loose rope. Get a friend to have a tug of war first and stretch it as much as you can. This causes the fibers to loosen from eachother and spread wide easier. Some webs are difficult to spread and will not spread wide until you stretch them first from the long ends.